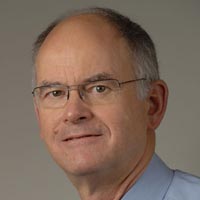 NIGMS' Bob Lees answers questions about green chemistry. Credit: National Institute of General Medical Sciences.
Chemists funded by NIGMS are working to develop "greener" processes for discovering, developing and manufacturing medicines and other molecules with therapeutic potential, as well as compounds used in biomedical research. One of our scientific experts, organic chemist Bob Lees, recently spoke to me about some of these efforts.
What is green chemistry?
Green chemistry is the design of chemical processes and products that are more environmentally friendly. Among the 12 guiding principles of green chemistry

are producing less waste, including fewer toxic byproducts; using more sustainable (renewable) or biodegradable materials; and saving energy. Continue reading →