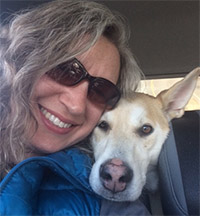 Lori Gildehaus and her lovable, mischievous dog, Charley. Credit: Lori Gildehaus.
Lori Gildehaus loves her job because she's almost always doing something different. Some days, she leads professional development sessions for undergraduate students at the University of Alaska, Fairbanks (UAF). Other days, she's weathered down in isolated communities along Alaska's coast while leading community science and outreach events. These activities are just a few of her many responsibilities. Gildehaus is a laboratory research and teaching technician for UAF's Biomedical Learning and Student Training

(BLaST) program.
UAF's BLaST program is one of 10 sites across the country in the Building Infrastructure Leading to Diversity (BUILD) initiative. As a component of the NIH Diversity Program Consortium, BUILD aims to find the best ways to engage and retain students from diverse backgrounds in biomedical research. Each BUILD site is as unique as the community it serves. UAF's BLaST program embraces Alaska Native culture and the unique landscape that its students, faculty, and staff call home.
UAF attracts students from across Alaska, making for a diverse student body. BLaST serves not only UAF but also seven other campuses throughout Alaska, ranging from IỊisaġvik College in Utqiaġvik (formerly Barrow) at the northern tip of the state, to the University of Alaska Southeast in Sitka, more than 1,000 miles away. In any area that large, it would be difficult to organize community science outreach and foster connections between institutions. But in Alaska, there aren't even roads connecting most rural campuses to Fairbanks.
Bridging gaps
Gildehaus and BLaST's four other laboratory research and teaching technicians help bridge these gaps and bring science to local communities. They also serve as intermediaries between undergraduate students doing research and their professors. For undergraduates, talking to professors can be intimidating, and navigating the university landscape can be overwhelming. One of Gildehaus' responsibilities is providing guidance to students.
"We want undergraduates to have a really good opportunity to explore their interests and have a good experience on their research projects," Gildehaus says.
Gildehaus has a broad background, including biological sciences, human anatomy and physiology, science outreach, and mentoring. This experience helps her develop BLaST's mentoring component. BLaST uses a tiered mentoring approach to provide opportunities for undergraduate and graduate students to share experiences and participate in mentoring.
Gildehaus has planned three mentoring workshops for fall 2017. One of these workshops, organized with assistance from the National Research Mentoring Network

, will focus on culturally aware mentoring. Another will teach attendees how to navigate conversations, share stories, and increase awareness and understanding of Alaska Native and other cultures.
Bringing science outside the lab
BLaST's diverse group of students includes many people who reside in rural areas and live a subsistence lifestyle. Traditional lab work schedules and science education can often seem disconnected from these communities. To better engage students, BLaST implements the One Health Approach, which emphasizes the interconnectedness between human, animal, and environmental health by promoting ways to expand interdisciplinary collaborations to attain optimal health for all. The program helps students recognize that there are opportunities to be involved in biomedical research in their communities, such as researching the natural vegetation of the Alaskan tundra, studying marine mammals, or finding cures for illnesses.   Continue reading →