About The Authors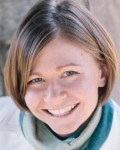 Carolyn, who trained as an evolutionary biologist, enjoys covering the latest research advances and the scientists who make them happen.

As a former science writer for NIGMS, Elia enjoyed describing and, in the process, learning about the latest scientific advances.

Michael is a geneticist who manages research grants related to RNA processing and protein synthesis as well as grants for the Postbaccalaureate Research Education Program. He enjoys teaching different audiences about advances in basic biomedical science
Kathryn Calkins, a long-time reporter for a weekly biotechnology newsletter, is always looking for the best way to share her enthusiasm for the biological sciences.
Emily, who edits this blog and the NIGMS Feedback Loop blog, writes about a wide range of NIGMS-funded research and NIGMS policies. One of her goals is to help people better understand and appreciate basic research and the NIH role in funding it.

Soma, who trained in infectious diseases and immunology, likes writing about a range of research fields, especially ones she's less familiar with! For every article, she tries to present a fresh perspective that helps the reader understand the topic and enjoy learning about it.

Science communicators who cover NIGMS-funded research at institutions nationwide occasionally contribute posts to this blog.

Jilliene creates a variety of products that encourage students, including those from diverse backgrounds, to pursue careers in biomedical research. In addition, she manages the NIGMS Facebook page and several student-related sections of the NIGMS Web site.
Joe is a cell biologist who manages grants involving cytoskeletal motor proteins, cell motility, intracellular transport and bacterial chemotaxis. He says the great part about his job is learning something new about science every day.
Cathy directs the NIGMS division that supports basic research and training in cell biology and biophysics. She has played an active role in developing new NIH initiatives in single molecule biophysics and live cell imaging, and she currently serves as co-chair of the trans-NIH Nanotechnology Task Force.
Zane contributed to this blog in a variety of ways when he worked for NIGMS.

While at NIGMS, Chidinma helped produce and disseminate a variety of educational materials for students and educators interested in learning more about basic biomedical research.
As the NIGMS summer science writing intern in 2013, Joe wrote profiles of researchers, produced videos, and wrote articles about topics ranging from the structure of HIV to the source of pain and itch.
Shelly writes about a range of NIGMS-funded research, including in the areas of computational and systems biology, modeling and bioinformatics.
As a former science writer for NIGMS, Sharon drew on her training in molecular biology and experience working in a lab to prepare articles for this blog.

Ruchi, NIGMS' 2015 summer science writing intern, loves explaining progress in basic biomedical research to help people understand and appreciate it. She plans to be a physician and medical correspondent.

Martin, a microbiologist who worked at the lab bench for more than 15 years, appreciates and likes to write about science's diverse topics and people.
Alisa, who's trained in biochemistry, writes articles, fact sheets, and publications about a variety of areas that include genetics, pharmacology, chemistry, and the body's response to traumatic injury. She also edits Findings magazine, which aims to stoke students' interest in biology and research careers.