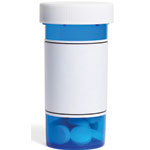 Aspirin is a blood thinner used to prevent heart attacks and stroke.
Aspirin is used often to prevent heart attacks and stroke. Yet, doctors know little about why it's more effective in some people than others. A team of Duke University researchers, including Geoffrey Ginsburg and Deepak Voora, recently discovered a method to pinpoint the patients who benefit most from the drug as well as those who are at risk for heart attacks. By administering aspirin to a set of healthy volunteers and people with heart disease and then analyzing their gene activity patterns, the researchers identified a set of genes that correlate with insufficient platelet response to aspirin. The finding might lead to a simple blood test to help tailor treatments for heart disease.
NIH's National Heart, Lung, and Blood Institute also supported this work.
Learn more:
Duke Medicine News Release Ginsburg Bio Voora Bio
Share...