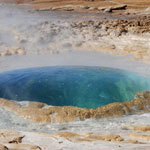 Icelandic hot springs are the natural habitat of Rhodothermus marinus, one of many species of thermophiles that the Gennis Lab studies to better understand membrane proteins. Credit: Stock image.
As the temperature climbs, most humans look for ways to cool down fast. But for some species of microorganisms, a midsummer heat wave isn't nearly hot enough. These heat lovers, known as thermophiles, thrive at temperatures of 113°F or more. They're often found in hot springs, geysers and even home water heaters.
Like humans and other organisms, thermophiles rely on proteins to maintain normal cell function. While our protein molecules break down under intense heat, a thermophile's proteins actually work more efficiently. They also tend to be more stable at room temperature than our own. An NIH-funded research team is taking advantage of this property of thermophiles to better understand a group of human proteins commonly targeted by today's medicines.
Read more about the team's thermophile research in this Inside Life Science article.
Share...