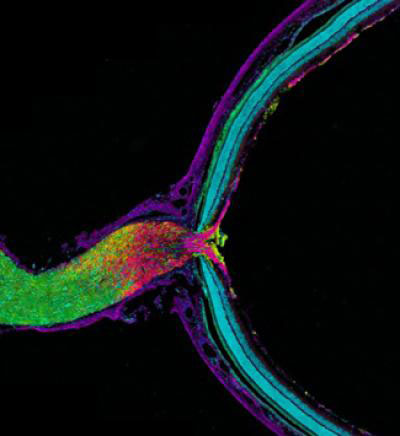 This image shows the mouse optic nerve and retina. Credit: Keunyoung Kim, Thomas Deerinck and Mark Ellisman,
National Center for Microscopy and Imaging Research

, UC San Diego.
In this image, the optic nerve (left) leaves the back of the retina (right). Where the retina meets the optic nerve, visual information begins its journey from the eye to the brain. Taking a closer look, axons (purple), which carry electrical and chemical messages, meet astrocytes (yellow), a type of brain cell. Recent research has found a new and surprising role for these astrocytes.
Biologists have long thought that all cells, including neurons, degrade and reuse pieces of their own mitochondria, the little powerhouses that provide energy to cells. Using cutting-edge imaging technology, researchers led by Mark Ellisman of the University of California, San Diego, and Nicholas Marsh-Armstrong of Johns Hopkins University have caught neurons in the mouse optic nerve in the act of passing some of their worn out mitochondria to neighboring astrocytes, which then did the dirty work of recycling.
The researchers also showed that neurons in other regions of the brain appear to outsource mitochondrial breakdown to astrocytes as well. They suggest that it will be important to confirm that this process occurs in other parts of the brain and to determine how possible defects in the outsourcing may contribute to or underlie neuronal dysfunction or neurodegenerative diseases.
This work also was funded by NIH's National Eye Institute and National Institute on Drug Abuse.
Learn more:
University of California, San Diego News Release

and Blog Posting


How Cells Take Out the Trash Article from Inside Life Science