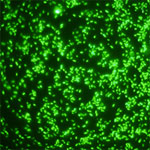 Bacteroides ovatus. Credit: Eric Martens, University of Michigan Medical School.
After eating, we don't do all the work of digestion on our own. Trillions of gut bacteria help us break food down into the simple building blocks our cells need to function. New research from an international team co-led by Eric Martens of the University of Michigan Medical School has uncovered how a strain of beneficial gut bacteria, Bacteroides ovatus, digests complex carbohydrates called xyloglucans that are found in fruits and vegetables. The researchers traced the microorganism's digestive ability to a single piece of the genome. They also examined a publicly available set of genomic data, which included information from both humans and their resident bacteria, and found that more than 90 percent of 250 adults harbored at least one Bacteroides strain with xyloglucan-digesting capabilities. These results underscore the importance of the bacteria to human health and nutrition.
This work also was funded by the National Institute of Diabetes and Digestive and Kidney Diseases.
Learn more:
University of Michigan News Release
University of Michigan Host Microbiome Initiative
Gut Reactions and Other Findings About Our Resident Microbes from Inside Life Science
Body Bacteria from Findings Magazine
Share...