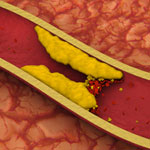 Heart disease is the leading cause of death for both men and women in the United States, according to the Centers for Disease Control and Prevention. One treatment challenge is developing non-invasive ways to direct medication to damaged or clogged arteries, which can block blood flow and increase the risk for heart attack and stroke. A team led by Naren Vyavahare at Clemson University has engineered extremely tiny particles—nanoparticles—that offer a promising step forward.
Healthy arteries have elastic fibers that make the arteries flexible. But, in most cardiovascular diseases, the fibers get damaged. The new nanoparticles, which can deliver drugs, attach only to damaged fibers and could enable site-specific drug delivery to minimize off-target side effects. The nanoparticles also allow drugs to be released over longer periods of time, potentially increasing the drugs' effectiveness. The new biomaterial was tested in rodent models for studying vascular disease, so it is still in the early stages of development.
This work also was funded by NIH's National Heart, Lung, and Blood Institute.
Share...