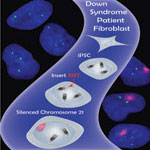 After deriving induced pluripotent stem cells (iPSC) from the cells of a person with Down syndrome, researchers inserted the XIST gene to silence the third chromosome 21 copy. Credit: Lawrence lab.
Each year about 1 in 700 babies is born with Down syndrome, a condition that occurs when cells contain three copies of chromosome 21. A new technique offers a proof of principle for silencing the extra copy. Using induced pluripotent stem cells derived from a person with Down syndrome, a research team led by Jeanne Lawrence of the University of Massachusetts Medical School inserted a gene called XIST into the extra chromosome 21. The gene, which normally turns off one whole X chromosome in females, rendered the chromosome copy and most of its genes inactive. The researchers plan to test the approach in a mouse model of Down syndrome and use it to further explore the biology of chromosome errors. The findings could eventually aid the development of therapies to mitigate resulting medical problems.
This work also was funded by NIH's National Cancer Institute and Eunice Kennedy Shriver National Institute of Child Health and Human Development.
Learn more:
University of Massachusetts Medical School News Release
Lawrence Lab

Share...