Credit: Chris McCulloh.
Chris McCulloh
Job: 4th-year general surgical resident, Morristown Medical Center in New Jersey
Grew up in: Manhattan
When not at work, he's: Programming, coding, thinking about artificial intelligence, and machine learning
Hobbies: Writing/producing electronic music, weightlifting
Ten years ago, Chris McCulloh planned to enter medical school and fulfill his dream of becoming a surgeon. Instead, just months before he was to start med school, he ended up a patient. A freak accident—slipping on a hardwood floor, flying backwards, and landing neck-first on the edge of a glass coffee table—left him with both legs paralyzed at age 28. Undaunted, he deferred entering medical school for a year, undergoing surgery and spending months in rehab.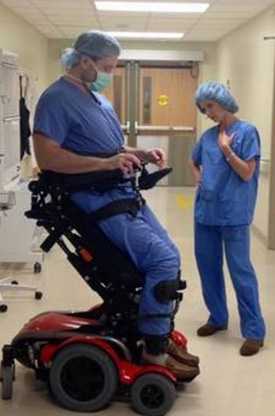 McCulloh prepares for surgery while "20/20" host Elizabeth Vargas stands alongside him as part of a 2017 interview.
Credit: Morristown Medical Center.
McCulloh has since finished medical school and recently completed a 2-year pediatric surgery research fellowship at Nationwide Children's Hospital in Columbus, Ohio. He is now two-thirds of the way through his surgical residency at the Morristown (New Jersey) Medical Center, thanks to the assistance of a specialized wheelchair that allows him to stand nearly to his 6-foot-3 height and helps him perform five to six surgeries a day.
He's received plenty of attention for being a surgeon with a disability. Along with several print media stories, he was interviewed in 2013 for CBS' "The Doctors," and in 2017, ABC's "20/20" included McCulloh in an episode on physicians with disabilities. But it's not the wheelchair that distinguishes McCulloh, says Gail Besner, a pediatric surgeon and researcher who hired McCulloh as a postdoctoral fellow. Rather, it's his enthusiasm, natural research skills, and exceptional surgical prowess that make him special. Besner sees no reason why he won't reach his goal of landing a highly competitive pediatric surgical residency. "I think he's capable of doing anything he puts his mind to," she says.
Continue reading "Surgeon Chris McCulloh Stands Up to Disability"