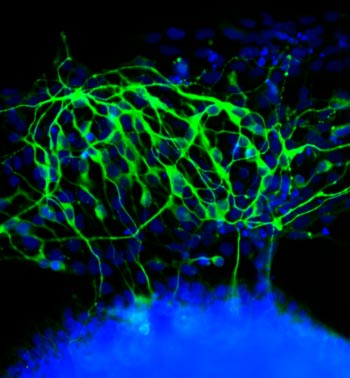 Stem cells grown on a soft surface begin to transform into neurons. Credit: Kiessling Lab, University of Wisconsin-Madison.
If you think this image looks like the fluorescent outline of a brain, you're on the right track. The green threads show neurons that have just formed from unspecialized cells called stem cells.
Researchers led by Laura Kiessling

of the University of Wisconsin-Madison directed the stem cells to become neurons by changing the quality of the surface on which they grew. In experiments testing different gels used to grow stem cells in the lab, the scientists found that the stiffness of those gels influenced cell fate decisions.
When grown on a soft gel with a brain tissue-like surface, the stem cells began to transform into neurons. This happened without the addition of any of the proteins normally used to coax stem cells to specialize into different types of cells.
A better understanding of how stem cell fate is influenced by the mechanical properties of a surface could help researchers who are trying to harness the blank slate cells for tissue regeneration or other therapeutic uses.
This work also was funded by NIH's National Institute of Biomedical Imaging and Bioengineering; National Heart, Lung, and Blood Institute; and National Institute of Neurological Disorders and Stroke.
Learn more:
University of Wisconsin-Madison News Release

Share...