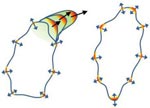 Messenger proteins help the cell make large projections (left). When these proteins aren't activated, the cell doesn't move (right). Credit: Devreotes Lab, Johns Hopkins University School of Medicine.
View larger image
A new study from Peter Devreotes

, Pablo Iglesias

and other scientists at Johns Hopkins University sheds light on the way in which cells get around the body to promote embryo development, wound healing and even cancer metastasis. Here's how they describe cell movement and their findings:
Think of the cell as a rowboat. Sensor proteins on the outside pass on directional signals to messenger proteins that serve as the cell's coxswain. The coxswain then commands other members of the molecular crew to stay in sync, propelling the cell forward. If there are no sensor signals, the coxswain can still coordinate the cell's movement, just not in any specific direction—it's like a boat without a rudder.
Scientists previously thought that the messenger proteins needed the sensor ones to produce both directional and random movements. Because defects in the messenger proteins have been linked to many types of cancer, the new work suggests these molecules could serve as a drug target for immobilizing tumor cells.

Learn more:
Johns Hopkins University School of Medicine News Release

Share...