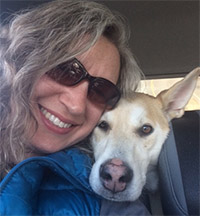 Lori Gildehaus and her lovable, mischievous dog, Charley. Credit: Lori Gildehaus.
Lori Gildehaus loves her job because she's almost always doing something different. Some days, she leads professional development sessions for undergraduate students at the University of Alaska, Fairbanks (UAF). Other days, she's weathered down in isolated communities along Alaska's coast while leading community science and outreach events. These activities are just a few of her many responsibilities. Gildehaus is a laboratory research and teaching technician for UAF's Biomedical Learning and Student Training

(BLaST) program.
UAF's BLaST program is one of 10 sites across the country in the Building Infrastructure Leading to Diversity (BUILD) initiative. As a component of the NIH Diversity Program Consortium, BUILD aims to find the best ways to engage and retain students from diverse backgrounds in biomedical research. Each BUILD site is as unique as the community it serves. UAF's BLaST program embraces Alaska Native culture and the unique landscape that its students, faculty, and staff call home.
UAF attracts students from across Alaska, making for a diverse student body. BLaST serves not only UAF but also seven other campuses throughout Alaska, ranging from IỊisaġvik College in Utqiaġvik (formerly Barrow) at the northern tip of the state, to the University of Alaska Southeast in Sitka, more than 1,000 miles away. In any area that large, it would be difficult to organize community science outreach and foster connections between institutions. But in Alaska, there aren't even roads connecting most rural campuses to Fairbanks.
Bridging gaps
Gildehaus and BLaST's four other laboratory research and teaching technicians help bridge these gaps and bring science to local communities. They also serve as intermediaries between undergraduate students doing research and their professors. For undergraduates, talking to professors can be intimidating, and navigating the university landscape can be overwhelming. One of Gildehaus' responsibilities is providing guidance to students.
"We want undergraduates to have a really good opportunity to explore their interests and have a good experience on their research projects," Gildehaus says.
Gildehaus has a broad background, including biological sciences, human anatomy and physiology, science outreach, and mentoring. This experience helps her develop BLaST's mentoring component. BLaST uses a tiered mentoring approach to provide opportunities for undergraduate and graduate students to share experiences and participate in mentoring.
Gildehaus has planned three mentoring workshops for fall 2017. One of these workshops, organized with assistance from the National Research Mentoring Network

, will focus on culturally aware mentoring. Another will teach attendees how to navigate conversations, share stories, and increase awareness and understanding of Alaska Native and other cultures.
Bringing science outside the lab
BLaST's diverse group of students includes many people who reside in rural areas and live a subsistence lifestyle. Traditional lab work schedules and science education can often seem disconnected from these communities. To better engage students, BLaST implements the One Health Approach, which emphasizes the interconnectedness between human, animal, and environmental health by promoting ways to expand interdisciplinary collaborations to attain optimal health for all. The program helps students recognize that there are opportunities to be involved in biomedical research in their communities, such as researching the natural vegetation of the Alaskan tundra, studying marine mammals, or finding cures for illnesses.
University of Alaska, Fairbanks (UAF) Biomedical Learning and Student Training (BLaST) program sites.
To build connections with rural communities, Gildehaus and others involved with BLaST organize community science events. Last year, an event in Nome (population just under 4,000) drew more than 300 participants, including many from surrounding communities. For these events, Gildehaus and her coworkers network with colleges, local fish and game offices, and friends in the area. Then, as she puts it, the event "just sort of spider-webs."
Overcoming stereotypes about who can be a scientist, and what it means to be involved with scientific research is integral to Gildehaus' work. She's noticed that students "may not see themselves as researchers or potential scientists, even if they're actually doing something that incorporates science."
"Students often have the idea that science occurs in a lab in a white coat," Gildehaus continues. "We're helping them explore their interests and shatter those stereotypes, and show them that science can take many forms."
Outreach across Alaska … and beyond
One element of Gildehaus' work to make complex scientific topics relevant to students includes a variety of outreach projects. Gildehaus has done science outreach at high schools. She collaborated with the UAF Wildlife Toxicology Lab to assist graduate students and staff with dissections of fish and local marine mammals. She's also presented seminars on nutrition, focusing on local flora and anti-oxidants. After participating in these experiences, the students are more likely to recognize different forms of science, Gildehaus says. They see animals they are already familiar with in a new light and look more closely at the vegetation that surrounds them.
Collaborations and outreach efforts have even led Gildehaus out of Alaska and across an ocean–to Hawaii! Working with Upward Bound, a federal program that provides high school students with support for college entrance, Gildehaus and a colleague traveled with 47 Alaska Native students to the Big Island of Hawaii in summer 2016. There, she and her colleague led cross-cultural exchanges and taught a two-week long, college-level One Health course to college-bound Alaskan students. The group traveled around the island and interacted with several Hawaiian charter schools and Upward Bound students at the University of Hawaii, Hilo. The course was specially designed to compare biological, ecological, and cultural aspects of Alaska and Hawaii. Students learned about scientific methodology and conducted a small-scale research project. They also discussed the impact of environmental changes on both Alaskan and Hawaiian communities.
Passionate about mentoring
Lori Gildehaus teaches a student in Barrow, Alaska, how to use a pipette for laboratory techniques like the polymerase chain reaction. Credit, UAF BLaST.
The laboratory research and training technicians' roles have evolved organically. Some of the technicians focus on tutoring and lab supervision, while others, such as Gildehaus, are dedicated to mentoring. To her, recognizing the needs and interests of each student and working with BLaST staff to tailor the program to best serve each student is of the utmost importance. Gildehaus estimates that she and her coworkers each work directly with about 10 undergraduates. Many of her colleagues mentor or tutor additional students in classrooms, study sessions, or labs.
One of Gildehaus' favorite activities during the three years she's worked with BLaST has been tutoring a group of undergraduate students at UAF's Kuskokwim campus. UAF Kuskokwim is one of BLaST's partnership institutions, located in Bethel which is about 520 miles from Fairbanks near Alaska's western coast. Although Bethel is inaccessible by ground travel from Fairbanks, it serves as a hub for nearby coastal communities. It has a population of about 6,000, an airport, and a grocery store. Gildehaus travels there three times a semester to teach human anatomy and physiology to a group of pre-nursing students.
Most of the students she works with in Bethel are nontraditional. They work during the day and take evening or online classes. They conduct laboratory experiments using kits they receive by mail. During Gildehaus' visits, they focus on the challenging themes from the online courses. Gildehaus is an additional layer of support to these students who would otherwise lack an opportunity to study with peers. Gildehaus has seen them grow and "figure out their passion, and it's been so much fun to be a part of that."
"I feel really fortunate to be part of such a positive change … I'm happy to see our students succeed," she says.
Share...