If a picture is worth a thousand words, what's a video worth? For cell biologist Ron Vale, it's priceless.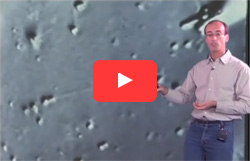 In this
iBiology

"discovery talk," Ron Vale describes the twists and turns that led him to unexpected findings, including a motor protein involved in important cellular processes.
In 2006, Vale started a video-based science outreach project called iBiology

to give people around the world broader access to research seminars. The free online videos, which cover a range of biomedical fields and career-related topics, take viewers behind the scenes of scientific findings and convey the excitement of the discovery process.
While geared mostly for undergraduate students, graduate students and postdoctoral researchers, the videos are also a rich resource for anyone who wants a better understanding of many biomedical areas, including those we cover on this blog. Continue reading "Sharing 'Behind the Scene' Stories About Scientific Discoveries"