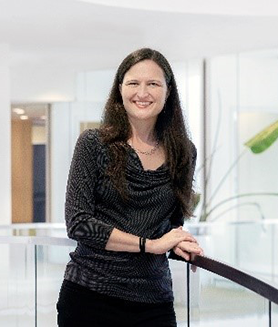 When she started college, Anne Carpenter, Ph.D., never guessed she'd one day create software for analyzing images of cells that would help identify potential medicines and that thousands of researchers would use. She wasn't planning to become a computational biologist, or even to focus on science at all, but she's now an institute scientist and the senior director of the Imaging Platform at the Broad Institute of Massachusetts Institute of Technology (MIT) and Harvard in Cambridge.
Starting Out in Science
Before beginning her undergraduate studies at Purdue University in West Lafayette, Indiana, Dr. Carpenter's strongest interests were reading and writing. Then, her subjects expanded. "In college, I liked science as much as anything else, and I realized that was unusual, as a lot of other people really struggled with it. I decided to pursue science because I enjoyed it and the field had good job prospects," she says. Dr. Carpenter majored in biology because she felt it had the "juiciest questions" as well as a direct impact on human health.
Continue reading

"Automating Cellular Image Analysis to Find Potential Medicines"