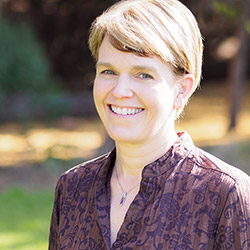 Credit: Mark Hanson.
Rebecca Heald
Grew up in: Greenville, Pennsylvania
Studied at: Hamilton College, Rice University, Harvard Medical School
Job site: University of California, Berkeley
Favorite hobby: Cycling
A 50-pound frog isn't some freak of nature or a creepy Halloween prank. It's a thought experiment conceived by Rebecca Heald, a cell biologist at the University of California, Berkeley

, who is studying the factors that control size in animals.
Heald's "50-pound frog project" speaks to the power of evolution and to scientists' ability to modify the physical characteristics of an organism by altering its genome. The project also incorporates many of Heald's fascinating discoveries studying amphibian eggs and embryos.
In amphibians, unlike in mammals, there are striking correlations among the size of the animals' genomes (an organism's complete set of genes) and several aspects of the animals' size. For example, amphibians with large genomes tend to be bigger than those with smaller genomes. Larger genomes also correspond to larger cells and larger organelles (specialized cellular structures such as the nucleus). Heald has also demonstrated that these seemingly fixed parameters can be tweaked in the lab. Continue reading "The Science of Size: Rebecca Heald Explores Size Control in Amphibians"