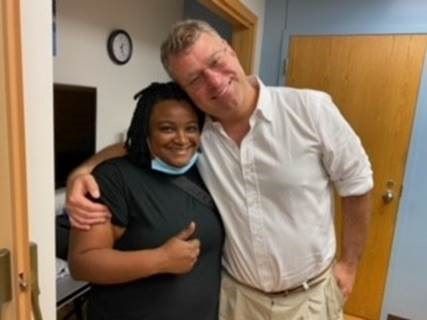 Dr. Darden with her mentor, Dr. Philip Efron. Credit: Courtesy of Lyle Moldawer, Ph.D.
"I'm an African American woman from Memphis, Tennessee; you don't see very many people like me in medicine or in science," says Dijoia Darden, M.D. She's working toward becoming an academic physician, which will allow her to treat patients, teach, and conduct research. "I'm hoping that as an academic physician, I can inspire other women, especially women of color, to pursue things they're passionate about."
A Path to Medicine
Dr. Darden was drawn to science from a young age, inspired by her microbiologist mother. She recalls that her mom often helped her create science fair projects, including one where she grew penicillin-producing bacteria taken from a lemon. Later on, during her high school summer breaks, Dr. Darden worked in a lab that studied how certain genes might contribute to cancer.
Continue reading

"Stitching Together Basic Science and Surgery"