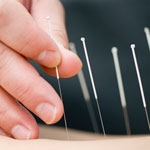 A form of acupuncture—or a drug that mimics its effect—may one day lead to an anti-inflammatory therapy for people with sepsis. Credit: Stock image.
A leading cause of death in U.S. intensive care units is sepsis, an overwhelming immune response to infection that triggers body-wide inflammation and can cause organ failure.
Sepsis is challenging to diagnose and treat. Many of its early signs, such as fever and difficulty breathing, are similar to those of other conditions. When doctors do not detect sepsis until a more advanced stage, they are often unable to stop its progression or prevent its complications.
"Sepsis is a complex problem," says Sarah Dunsmore of the National Institutes of Health (NIH). "We need more research at all levels—from the molecular to the patient—to improve sepsis diagnosis and treatment and to enhance the quality of life for sepsis survivors."
NIH-funded scientists use a variety of tools, including blood tests and acupuncture, in their quest to detect sepsis early, treat it quickly and reduce its later effects.
Read more about sepsis research in this Inside Life Science article.
Share...