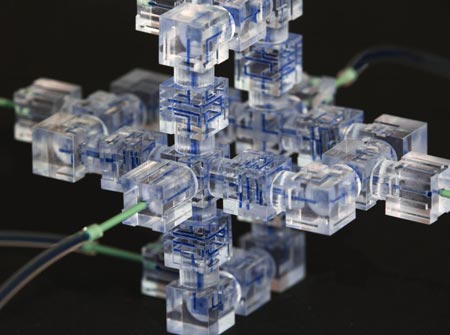 Modular microfluidics system. Credit: University of Southern California Viterbi School of Engineering.
Like snapping Lego blocks together to build a fanciful space station, scientists have developed a new way to assemble a microfluidics system, a sophisticated laboratory tool for manipulating small volumes of fluids.
Microfluidics systems are used by scientists to perform tasks as diverse as DNA analysis, microbe detection and disease diagnosis. Traditionally, they have been slow and expensive to produce, as each individual "lab on a chip" had to be built from scratch in a special facility.
Now, researchers including Noah Malmstadt of the University of Southern California have harnessed 3-D printing technology to create a faster, cheaper, easier-to-use system

. The team first identified the smallest functional pieces of a microfluidics system. Each of these pieces performs one simple task like detecting the size of fluid droplets or mixing two fluids together. After 3-D printing individual components, the team showed that they could be snapped together by hand into a working system in a matter of hours. The individual pieces can be pulled apart and re-assembled as needed before use in an actual experiment, which was impossible with the traditional microfluidics systems.
The researchers have created eight block-like components so far. They hope to start an online community where scientists will share designs for additional components in an open-source database, helping to speed further development of the technology.
This work was funded in part by NIH under grant R01GM093279.
Share...