"What we're trying to do is support the students' attachment to being a scientist, to becoming part of the community," says Douglas McMahon, Ph.D., the Stevenson Professor of Biological Sciences at Vanderbilt University in Nashville, Tennessee, and a co-director of Vanderbilt's Maximizing Access to Research Careers (MARC) program. MARC focuses on undergraduates from diverse backgrounds who are in the biomedical sciences and plan to pursue a Ph.D. or M.D./Ph.D. degree after graduation.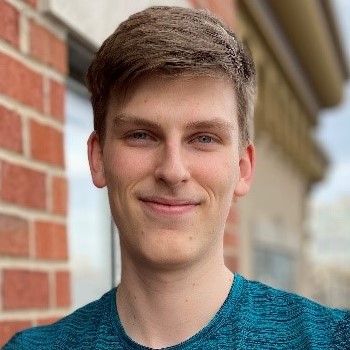 For years, NIGMS has funded MARC programs throughout the United States and its territories; Vanderbilt joined their ranks in 2020. In June of that year, Dr. McMahon and Katherine Friedman, Ph.D., an associate professor of biological sciences at Vanderbilt and co-director of its MARC program, welcomed the initial cohort of six rising juniors. "MARC is a great opportunity because it focuses on helping people reach their Ph.D. goals who don't really have others around them who know how to get there," says Sim Plotkin, a molecular and cellular biology major. "For me, that's really helpful because I'll be the first in my family to graduate from college."
Research Outside and Inside the Lab
A primary goal of MARC is to help students gain research experience. Normally, participating students will work in labs at Vanderbilt during their first summer in the program. But in 2020, due to COVID-19, the students conducted research remotely, doing computational projects or literature reviews. "During the summer, the country was sort of falling apart, and MARC was a saving grace as far as being the first stepping-stone into the research field," says Lucy Britto, a biomedical engineering major. "I feel like it's really setting me up for long-term success."
During the fall 2020 semester, when Vanderbilt resumed in-person classes, most of the students were able to work inside labs alongside other students and professors. "Working in a lab with students from the grad school program has really shown me how grad school would be," says Hannah Craft, a biochemistry major.
Building Connections
MARC also helps students connect with one another and with faculty members. The program holds meetings every other week, where students update everyone on their research. "A lot of undergraduates at Vanderbilt do research, but unless you're good friends with someone, you really don't know what anyone else is working on," says Cassidy Johnson, a molecular and cellular biology major. "Because we meet every 2 weeks, I get to hear about what my peers are doing, which is one thing I particularly like." (Photo not available)
As another part of these meetings, Drs. McMahon and Friedman discuss applying to graduate school and share professional development opportunities, such as resume workshops and the Annual Biomedical Research Conference for Minority Students (ABRCMS). All MARC students attended ABRCMS 2020, which was held virtually, and they presented posters on their research. It was the first scientific conference for many of them, including Britto, who won an award for her presentation.
Drs. McMahon and Friedman have also helped the students put together their own advisory committees, made up of three faculty members, that give feedback on the students' research and advice for applying to graduate programs. "I think the biggest thing about MARC so far is just the mentorship that it's given me," says Anna Bright, a neuroscience major. "The two co-directors are always there if I have any questions. Every time I meet with them, I'm so surprised that they pour in this level of mentorship and care into our success."
Bethanie Stauffer, a double major in chemistry and in medicine, health, and society, agrees that mentorship and building relationships are valuable parts of the program. "MARC connects you with other students and faculty members at the university who you might not have known, which opens up all kinds of opportunities to do really, really cool things during your time in undergrad," she says.
One helpful connection for MARC is Christina Chavez, a first-year Ph.D. student in Vanderbilt's interdisciplinary graduate program in biological and biomedical sciences. She participated in the MARC program at California State University, Fullerton, and was excited to learn about the program at Vanderbilt. Drs. McMahon and Friedman invited Chavez to help mentor the MARC students, and since then, she has been sitting in on meetings and offering advice. "Being in academia, being able to do research, and being in MARC completely changed my life," says Chavez. "So if I can share my experience and it helps the scholars even a little bit, that's awesome."
The Vanderbilt MARC program is supported by NIGMS grant T34GM136451.
Share...