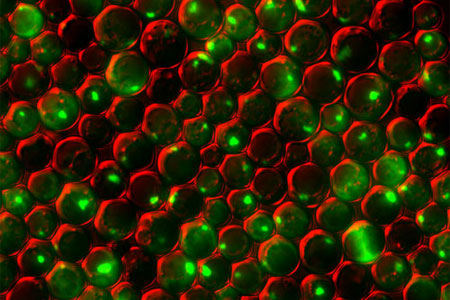 Yeast cells deficient in zinc and the Tsa1 protein have protein tangles. Credit: Colin MacDiarmid and David Eide, University of Wisconsin-Madison.
Just in time for the holidays, we've wrapped up a few red and green cellular images from basic research studies. In this snapshot, we see a group of yeast cells that are deficient in zinc, a metal that plays a key role in creating and maintaining protein shape. The cells also lack a protein called Tsa1, which normally keeps proteins from sticking together. Green areas highlight protein tangles caused by the double deficiency. Red outlines the cells. Protein clumping plays a role in many human diseases, including Parkinson's and Alzheimer's, so knowledge of why it happens—and what prevents it in healthy cells—could aid the development of treatments.
See more festive images!
Share...