This is the second post in a new series highlighting NIGMS' efforts toward developing a robust, diverse and well-trained scientific workforce.
Credit: Christa Reynolds.
Austin Phanouvong
Academic Institution: Portland State University
Major: Biology
Minor: Chemistry
Mentor: Suzanne Mitchell
Favorite Book: The Alchemist, by Paulo Coelho
Favorite Food: Sushi
Hobbies: Hiking, cooking and traveling
BUILD and the Diversity Program Consortium
The Diversity Program Consortium (DPC) aims to enhance diversity in the biomedical research workforce through improved recruitment, training and mentoring nationwide. It comprises three integrated programs—Building Infrastructure Leading to Diversity (BUILD), which implements activities at student, faculty and institutional levels; the National Research Mentoring Network (NRMN), which provides mentoring and career development opportunities for scientists at all levels; and the Coordination and Evaluation Center (CEC), which is responsible for evaluating and coordinating DPC activities.
Ten undergraduate institutions across the United States have received BUILD grants, and together, they serve a diverse population. Each BUILD site has developed a unique program intended to engage and prepare students for success in the biomedical sciences and maximize opportunities for research training and faculty development. BUILD programs include everything from curricular redesign, lab renovations, faculty training and research grants, to student career development, mentoring and research-intensive summer programs.
Austin Phanouvong, 21, likes biology because it teaches him about life.
"Even the way we walk, the way we breathe – there's all these little components to it that we don't even think about but they're very helpful, and one hiccup in that system can lead to many diseases and sicknesses," Phanouvong says.
Born and raised in Portland, Oregon, Phanouvong is a senior at Portland State University (PSU), where he is in the Building Infrastructure Leading to Diversity (BUILD) EXITO program. As a student in BUILD EXITO

(which stands for "Enhancing Cross-Disciplinary Infrastructure and Training at Oregon"), Phanouvong takes biomedical science courses, conducts research and participates in professional development workshops and seminars. He has learned about preparing a CV and writing personal statements. In spring 2017, Phanouvong will graduate with a major in biology and a minor in chemistry. He will continue to pursue research opportunities as he applies for medical school, and he hasn't ruled out the possibility of pursuing a Ph.D. in the future.
Since high school, Phanouvong's desire has been to help people through a healthcare career. Originally, he was interested in nursing, but he decided he could push his career plans and education farther by going to medical school. Because of his interest in hands-on research, last year Phanouvong's honors thesis advisor recommended he apply for the BUILD program, and Phanouvong realized BUILD EXITO would be a great opportunity to engage in research as an undergraduate student.
Now, Phanouvong is in his second year as a BUILD student, working in Suzanne Mitchell's lab. Mitchell's research focuses on addiction and investigates basic neural processes involved in decision making. In the lab, Phanouvong's research is concentrated on understanding decision-making differences among smokers by evaluating how smokers, non-smokers and ex-smokers use "discounting" on tasks. "Discounting" is when a reward's value to a participant is reduced because it is only available after overcoming an obstacle, like having to wait for the reward to be delivered or having to exert effort to obtain it. One example of this type of decision is a choice between gaining $15 hassle-free versus getting $25 for completing an easy 20-minute reaction task. This example looks at whether the value of the reward ($15 or $25) is impacted by the need to expend effort. Interestingly, Mitchell's lab finds that individual differences in willingness to wait and willingness to do work are seemingly associated with using cigarettes, alcohol and other substances. Many studies in this field have found that individuals with substance-use disorders (or heavy levels of use) discount delayed rewards more than those without substance-use disorders.
In the study, Mitchell, Phanouvong and the others working in the lab are interested in finding out whether discounting varies among the different smoker groups, and if people continued discounting tasks even after giving up smoking. By understanding more about this phenomenon, it's hopeful that researchers will be able to evaluate risk for unhealthy behaviors and the likelihood that people will engage in preventative, health-maintaining behaviors.
Although the BUILD activities, research and seminars all take up a lot of time, Phanouvong finds them helpful. Through his participation, Phanouvong feels like he is part of a community within his BUILD cohort.
Austin Phanouvong and his daughter, Alayna, at the Wooden Shoe Tulip Festival in Woodburn, Oregon. Credit: Austin Phanouvong.
Learning about time management and having a strong support system are particularly important to Phanouvong because, along with all of his educational and career development activities, he is raising his one-year-old daughter, Alayna. His parents, sister and cousins all help care for her during the week so that he can spend time in the library studying.
"My support system is incredible. And my family knows that what I'm striving for is very time-intensive, very hard," Phanouvong says. "They believe in me, so I gotta do this. I gotta work hard."
On the weekends, Phanouvong tries to spend as much time with Alayna as possible. She is a curious little girl, who loves playing with her toy car, exploring and eating pho, a Vietnamese beef noodle soup.
Phanouvong is applying to Oregon Health & Science University so that he can stay close to his family. He knows that continuing his education and research will require a lot of work, but it's worth it, both for his own goals and for his daughter.
"It's all for her future, so, she's my motivation," Phanouvong says.
---
More Biomedical Beat Stories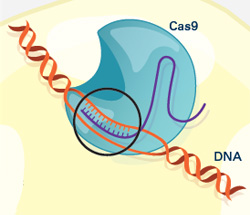 Gene Editing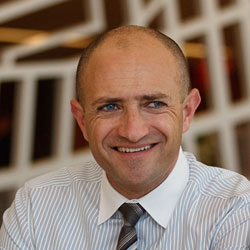 Being a Scientist
Disease Prevention
Genetics
Share...