Brain injuries, cancer, infections, and wound healing are some of the complex and pressing health concerns we face today. Understanding the basic science behind these diseases and biological processes is the key to developing new treatments and improving patient outcomes. Physician scientists—medical doctors who also conduct laboratory research—are essential to turning knowledge gained in the lab into innovative treatments, surgical advances, and new diagnostic tools.
In this blog, we highlight the work and impact of three surgeon scientists funded by NIGMS at different stages in their careers: Dr. Nicole Gibran (current grantee), Dr. Rebecca Minter (former grantee), and Dr. Carrie Sims (former grantee). Their work, despite the historical underrepresentation of women in the physician scientist training community, has led to revolutionary surgical treatments, new therapeutics, better screening, and improved quality of life for patients.
Dr. Nicole Gibran: Transforming Burn Recovery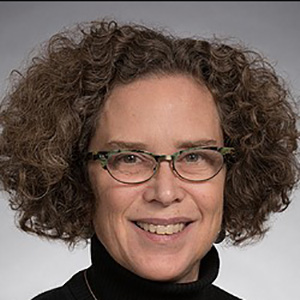 Dr. Nicole Gibran, director of University of Washington's Regional Burn Center at Harborview and University of Washington's David and Nancy Auth-Washington Research Foundation Endowed Chair for Restorative Burn Surgery. Credit: University of Washington Medicine.
Dr. Nicole Gibran has built an impressive career treating burn victims and helping them regain their function, strength, mobility, and quality of life. As the director of the University of Washington's Regional Burn Center at Harborview, 
 which treats more than 900 burn patients each year, Gibran splits her time between patient care and researching the biological processes that drive wound healing and repair.
Scientists still don't fully understand how the body repairs wounds, and clinicians are unsure how to treat wounds more effectively while reducing scarring. Gibran tries to address these knowledge gaps in her lab. Her work focuses on understanding the mechanisms of wound repair, especially how nerves contribute to inflammation and scarring. Nerves in the skin trigger the release of proteins at different stages of the inflammation response after a burn injury, and Gibran's lab has identified key proteins and receptors that signal scar formation at the injury site. Understanding why, how, and when scars form after burns could help scientists develop better burn treatments that preserve tissue function, maximize recovery, and reduce scarring.
Gibran demonstrates a unique ability and commitment in bringing together people of different backgrounds and experiences. For example, she convinced the scientific burn community to include patients among every working group at all state-of-the-science symposia, regardless of the topic. As a result, researchers now see and hear from patients as they discuss everything from nutrition to future treatment directions. She believes that researchers and clinicians "need to find more opportunities to hear the patient's voice" so they better understand their gaps in knowledge.
Severe burns are traumatic injuries that damage not only the skin and surrounding tissues, but also the mind. Burn patients can be left with deformities and scarring that affect how the public views them and how they navigate the world. Gibran hopes to change that. She advocates for increased public awareness of burn injuries
and ensures that all patients treated at the University of Washington Burn Center have access to psychological services early in their care. Gibran's devotion to her patients' physical and psychological recovery is a key reason why the burn center is a valuable and esteemed resource for the Washington state community.
To those looking to replicate her incredibly successful funding history and launch their own research careers, Gibran has some advice:
Don't be shy about reaching out to people who could be mentors and counsel you.
Learn how to say "no."
Have a good research story to tell.
Understand why your research is truly important and how it will directly help patients have better outcomes.
Have a good working relationship with your program director.
Get creative with finding funding sources.
*Gibran received her initial grant as a young investigator through NIGMS' now phased-out FIRST (First Independent Research Support and Transition) award. Since then, Gibran has received many R01 grants through NIGMS.
Dr. Rebecca Minter: Rethinking Surgical Training
Dr. Rebecca Minter, chair of the Department of Surgery at the University of Wisconsin–Madison. Credit: UW Department of Surgery. Credit: Andy Manis.
Dr. Rebecca Minter
is always looking to improve her patients' quality of life and to develop a more effective surgical training paradigm. An internationally recognized pancreaticobiliary surgeon who specializes in early detection and treatment of pancreatic diseases, she has successfully launched a pancreatic diseases prevention program. Also a leader in surgical education, Minter is the newly appointed A.R. Curreri Professor and chair of the Department of Surgery at the University of Wisconsin (UW)–Madison.
With her impressive resume, people would never know that Minter entered residency with no idea of what an academic surgeon was. She points to NIGMS as pivotal in her choice of following this path and in laying a solid foundation for her extraordinary career. She says that NIGMS training support exposed her to the excitement of taking part in moving the field forward. "And it taught me how to write grants and secure funding and how to ask the right questions," Minter adds.
Although her surgical training and career development as a mentored trainee were exceptional, Minter recognizes that this isn't every fellow's experience. She notes that her success wouldn't be the same if NIGMS hadn't made those investments in her future as an early-career investigator and credits her mentor, Lyle Moldawer, Ph.D., with launching her career. Given her appreciation for the mentoring she received, it's no surprise that she's interested in the impact of investments in trainees and the significance of career development, and is researching how to train the next generation of surgeons more effectively.
At UW-Madison, Minter devotes her time to supporting the surgical faculty and researching how to improve training programs in surgery to ensure all graduating surgeons are competent and prepared for independent practice. The training approach historically has focused on the number of procedures a surgical resident has performed and years of training rather than a resident's ability, which better predicts independence at the conclusion of the program. Focusing primarily on procedural numbers as a key measure of success also tells little about the quality of training the residents have received learning that technique.
Did they obtain leadership opportunities? What level of independence did they have performing the procedure? How hands-on were the attending physicians?
Minter challenges her colleagues to broaden their definition of effective surgical training by having all graduating trainees care for a family member upon graduation. This requires significant and innovative approaches to both resident and faculty development—innovations that Minter and her colleagues are developing.
*Minter, received both an NIGMS T32 National Research Service Award Institutional Postdoctoral Training Grant and a Mentored Clinical Scientist Development Award at the beginning of her medical training and faculty career.
Dr. Carrie Sims: Advocating for Change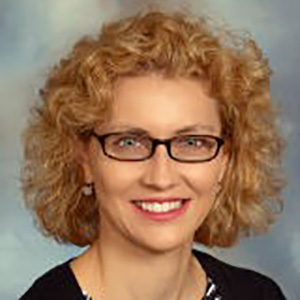 Dr. Carrie Sims, associate professor of surgery and attending surgeon at the hospital of the University of Pennsylvania, and research director of the Division of Traumatology, Surgical Critical Care and Emergency Surgery, at the University of Pennsylvania School of Medicine. Credit: University of Pennsylvania Perelman School of Medicine. Credit: University of Pennsylvania.
As a trauma surgeon in Philadelphia, Dr. Carrie Sims sees it all—from gunshot wounds and brain injuries to internal bleeding and shock. She is highly skilled at quickly diagnosing and treating the many life-threatening injuries that confront her in the operating room at the University of Pennsylvania School of Medicine and the Presbyterian Medical Center of Philadelphia. But Sims is not just a trauma surgeon. Sims has made it her mission to understand and address the root causes of two kinds of trauma that impact our communities: gun violence and intimate partner violence, often referred to as domestic violence.
Because Sims treats numerous gunshot wounds in Philadelphia every year, she decided to research factors that may be contributing to this huge public health problem. She teamed up with a colleague from the University of Pennsylvania Injury Science Center 
 to study the epidemiology of gun violence in the community. They analyzed police statistics for firearm injuries and found that race appears to play a critical role in increasing someone's risk of a firearm injury. She now advocates for increased research into this and other racial disparities related to public health.
Domestic violence is another leading cause of injury Sims is called on to treat. Based on her research, Sims implemented a mandatory educational program on domestic violence at the Trauma Center at Penn for all trauma residents. Studies commissioned by the Department of Health and Human Services show that mandatory screening can increase domestic violence detection and lead to more successful interventions and injury prevention. Sims continues to monitor and improve the screening program's effectiveness and encourages the medical community to address domestic violence nationally.
*Sims received an NIGMS Mentored Clinical Scientist Development Award in 2011.
Share...