"Each person has something that they uniquely want to do, and as a mentor, you have to help uncover that," says Angela Wandinger-Ness, Ph.D., the Victor and Ruby Hansen Surface Endowed Professor in Cancer Cell Biology and Clinical Translation in the department of pathology at the University of New Mexico (UNM) School of Medicine. "You have to put opportunities in front of them. You see what excites them, and then you steer them." Dr. Wandinger-Ness is among this year's honorees of the Presidential Award for Excellence in Science, Mathematics and Engineering Mentoring (PAESMEM).
Dr. Wandinger-Ness (left) with former undergraduate trainee Amber Rauch (center) and current Ph.D. trainee Melanie Rivera. Credit: Angela Wandinger-Ness, Ph.D.
The PAESMEM was established by the White House in 1995. This year, recipients were honored during a virtual awards ceremony. Each awardee received a grant from the National Science Foundation, which manages the PAESMEM on behalf of the White House Office of Science and Technology Policy.
Developing Diversity
Over the course of about 30 years, Dr. Wandinger-Ness has mentored approximately 270 students—many of whom have come from underrepresented communities—through her lab and training programs. Mentees who've worked in her lab include bachelor's and master's students who went on to earn doctorate degrees, as well as doctorate students and postdoctoral fellows.
Along with her research on GTPase enzymes and their potential as drug targets for treating cancer, Dr. Wandinger-Ness serves as the associate director for education, training, and mentoring for the Comprehensive Cancer Center at UNM. There she directs two NIH-funded training programs. One program, funded since 2009 by an NIGMS Institutional Research and Academic Career Development Award, supports women and underrepresented postdoctoral fellows in developing teaching and mentoring skills. That program now has more than 40 alumni, the majority of whom hold academic positions. The other, funded by the National Cancer Institute (NCI), provides Native American high school students and undergraduates with experience in cancer research. Dr. Wandinger-Ness coordinates regular meetings for participants from the two NIH programs because she believes peer mentors are vital and provide unique insights for one another.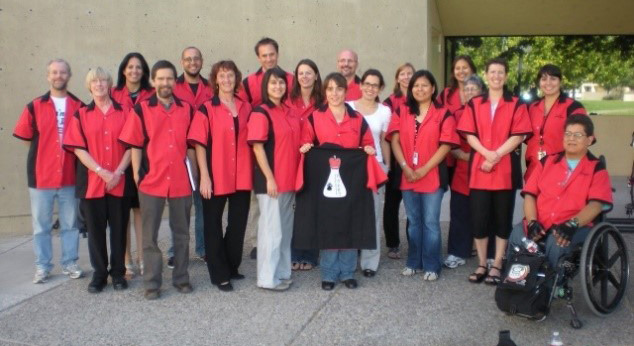 Dr. Wandinger-Ness (front row, third from the left) with the first and second cohorts of students and mentors from the program funded by an NIGMS Institutional Research and Academic Career Development Award. Credit: Angela Wandinger-Ness, Ph.D.
Former trainees and colleagues of Dr. Wandinger-Ness nominated her for the PAESMEM. She says, "It's deeply gratifying because it means that I've made a difference. It's so incredible to have that kind of impact on people who will keep it going on. That's really the most important thing—that you will have people who will care about others."
In addition to the PAESMEM, she was honored this past February with the Lifetime Mentor Award from the American Association for the Advancement of Science. Established in 1991, the organization annually honors one person who, for 25 years or more, has mentored students from communities that are underrepresented in STEM fields.
Dr. Wandinger-Ness' work is supported by NIGMS grant K12GM088021 and NCI grant P30CA118100.
Share...