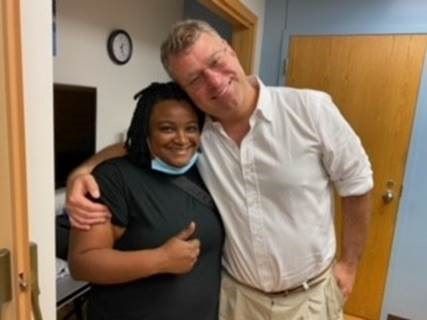 Dr. Darden with her mentor, Dr. Philip Efron. Credit: Courtesy of Lyle Moldawer, Ph.D.
"I'm an African American woman from Memphis, Tennessee; you don't see very many people like me in medicine or in science," says Dijoia Darden, M.D. She's working toward becoming an academic physician, which will allow her to treat patients, teach, and conduct research. "I'm hoping that as an academic physician, I can inspire other women, especially women of color, to pursue things they're passionate about."
A Path to Medicine
Dr. Darden was drawn to science from a young age, inspired by her microbiologist mother. She recalls that her mom often helped her create science fair projects, including one where she grew penicillin-producing bacteria taken from a lemon. Later on, during her high school summer breaks, Dr. Darden worked in a lab that studied how certain genes might contribute to cancer.
Those early experiences fueled her passion to major in neuroscience in college, but focusing purely on science left her feeling like something was missing. After a friend suggested that she explore medicine, she began shadowing several doctors and soon decided that a medical career was the right path for her.
She completed medical school and a year of preliminary general surgery residency at the University of Tennessee Health Science Center, Memphis, and then a second year of residency at the University of Florida, Gainesville. When she applied for a third year, however, she wasn't granted a spot, and she needed at least 5 years of residency before she could become a board-certified surgeon.
Focusing on Research
Following advice from her program director, Dr. Darden decided to search for a temporary lab position to gain CV-boosting experience before applying for residencies again. When she heard that Philip Efron, M.D., had a trainee opening on an NIGMS T32 grant, she jumped at the opportunity. Dr. Efron conducts sepsis and critical illness research in both clinical settings with patients and in the basic science lab with cells. It was in his lab that Dr. Darden discovered she enjoyed the basic science research and decided she would make sepsis and critical illness the focus of her own lab one day.
Dr. Darden credits her T32 training experience with encouraging her to continue pursuing a career in academic medicine, even amid doubts: "At one point, I was thinking this wasn't for me because I couldn't get a residency position, and Dr. Efron told me, 'Absolutely not. I've seen the way you work in the lab. I've read your papers. You can be an academic surgeon.'" She found his support especially encouraging because he'd taken a path similar to the one she was on—participating in the T32 program as a trainee—and now had the type of job she hoped to have in the future.
Moving Forward
Dr. Darden excelled while in the T32 program, publishing multiple papers, presenting at national meetings, and winning numerous awards. In July 2021, after 2 years of working in the lab, she started her third year of residency at the University of Florida, and her position is guaranteed until she completes her residency requirements. She also continues to work in Dr. Efron's lab as she further prepares to become an academic surgeon.
"The people from the lab are definitely lifelong-friend kind of people," says Dr. Darden. "I wouldn't change this experience for anything."
Dr. Darden was supported by NIGMS grant T32GM008721.
Share...