"One thing that we try to develop in students is a sense of belonging and scientific identity," says Edwin Barea-Rodriguez, Ph.D., the director of the Research Training Initiative for Student Enhancement (RISE) program at the University of Texas, San Antonio (UTSA). The program provides undergraduate and graduate students from underrepresented backgrounds with research experiences, professional development opportunities, and faculty mentorships. The UTSA RISE program has helped hundreds of students build strong foundations for scientific careers over its more than 20-year history. Here, we share the stories of three students who have benefited from RISE.
Support Beyond the Lab
After earning her bachelor's degree in biochemistry, Kaira Church knew she loved research but wasn't sure if graduate school was right for her. She took a job as a lab technician in the research group of Astrid Cardona, Ph.D., a professor of molecular microbiology and immunology at UTSA, where she learned firsthand what being a graduate student entailed. She was also introduced to RISE and was impressed by the variety of opportunities it offered. She decided to pursue a Ph.D. and applied to the program.
Kaira is now in her fourth year as a RISE trainee. "I really like the professional development and the networking that RISE offers," she says. "A lot of science majors are stuck in the lab all the time. RISE ensures that we're meeting people in our field so we have plenty of job opportunities when we graduate."
Kaira adds that the program's leaders have been very supportive of her and other students when they've faced personal challenges. At the beginning of the COVID-19 pandemic, the leaders set up Zoom calls with every student to check in and ask if they needed anything to support remote learning. "They're not just here for us on an academic or professional level; they're here for us in all aspects of the process," says Kaira.
Kaira plans to graduate in the summer of 2022 and work as a postdoctoral researcher while considering whether to pursue a career in academia or industry.
A Community of Scientists Who "Looked Like Me"
Jesús Romo, Ph.D., emigrated to the United States when he was 10 years old and was the first in his family to graduate from high school. He started college at UTSA as a biology major with the goal of becoming a dentist. However, shadowing a dentist led him to realize the career wouldn't be a good fit for him. He was uncertain about what to do next until his microbiology lab instructor, seeing his enthusiasm for the subject, suggested that he consider teaching microbiology at the college level.
Dr. Romo was immediately drawn to the idea. He went on to earn a master's degree at UTSA and then took a job as a microbiology instructor at Galen College of Nursing. Although he greatly enjoyed teaching there, he missed doing research. He decided to return to UTSA to earn a Ph.D. so he could combine his passions for teaching and research and have more opportunities to mentor underrepresented scientists.
Dr. Romo applied to RISE during his second year of graduate school. "Honestly, it was the best decision I've ever made for my career," he says. "For me, the biggest impact of RISE was having a community of colleagues and mentors who looked like me and had similar lived experiences."
In August 2018, Dr. Romo became an Institutional Research and Academic Career Development Awards postdoctoral fellow at Tufts University School of Medicine, Boston. He hopes to start his own lab at a state university or minority-serving institution.
From Trainee to Professor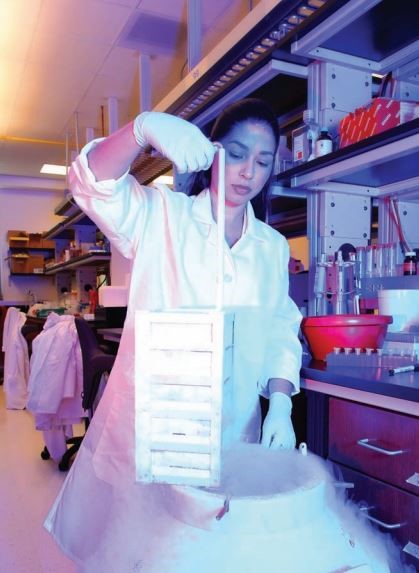 As a first-generation college student, Marissa Wechsler, Ph.D., was unsure what she wanted to study. She loved science and had a particular interest in anatomy and physiology, but she didn't want to pursue a career in medicine. She decided to follow a neighbor's suggestion to major in mechanical engineering, thinking she'd apply engineering to the human body.
For one of her first-year classes at UTSA, Dr. Wechsler interviewed Rena Bizios, Ph.D., the Lutcher Brown Endowed Chair Professor of biomedical engineering. During the interview, Dr. Wechsler mentioned that she had applied to RISE, and Dr. Bizios offered her a spot in the Bizios Lab if she was accepted to the program. Shortly thereafter, Dr. Wechsler was accepted and began conducting research with her. During Dr. Wechsler's sophomore year, she was able to switch her major to match her passion and her research when UTSA began offering biomedical engineering for undergraduates.
In addition to commending RISE for providing research experiences, Dr. Wechsler credits the program with opening her eyes to different science careers and giving her tools to pursue them. The weekly seminars where RISE alumni talked about their professional paths especially inspired her. "Their stories really stuck out to me because [the speakers] were once in my position and went on to have the type of career I wanted," says Dr. Wechsler.
After completing her bachelor's degree, Dr. Wechsler received the National Science Foundation Graduate Research Fellowship and earned her Ph.D. in biomedical engineering at UTSA. She then started a postdoctoral position at the University of Colorado, Boulder, in 2020.
Dr. Wechsler returned to UTSA in 2021 as an assistant professor of biomedical engineering. "It was something that I jumped on immediately. It's really important to me to represent the student population at UTSA—a Hispanic-serving institution—at the faculty level," says Dr. Wechsler. "I want to be a voice for women and underrepresented minorities in engineering."
The UTSA RISE program is supported by NIGMS grant R25GM060655.
Share...