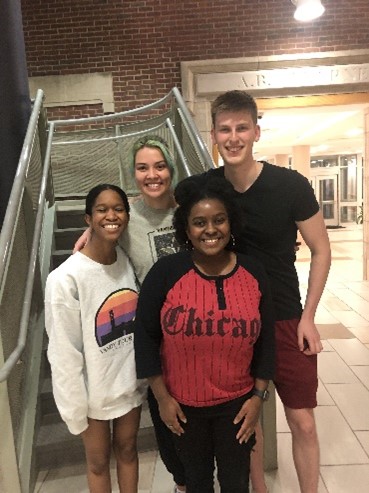 In 2021, we shared the perspectives of third-year undergraduates who had recently joined the first cohort of the Maximizing Access to Research Careers (MARC) program at Vanderbilt University in Nashville, Tennessee. Vanderbilt's MARC program provides mentorship and professional development opportunities to third- and fourth-year undergraduates who plan to pursue advanced degrees and are from groups that are underrepresented in the biomedical sciences. In spring 2022, as the cohort prepared for graduation, we followed up on their progress and postgraduation plans.
"I feel really pleased with how well our students have done despite entering the program in the midst of the COVID-19 pandemic," says Katherine Friedman, Ph.D., an associate professor of biological sciences at Vanderbilt and a co-director of its MARC program. Four of the six first-cohort students are entering doctoral programs in fall 2022, and the other two have made preparations to pursue higher degrees at a later date.
During their senior year, the first cohort not only prepared for graduate school but also supported the second cohort. "The senior students really took the other students under their wings," says Douglas McMahon, Ph.D., the Stevenson Professor of Biological Sciences at Vanderbilt and a co-director of its MARC program.
The MARC students, along with graduate students from Vanderbilt, have also helped mentor first- and second-year undergraduates participating in STEM Transition and Retention (START), another program that Drs. McMahon and Friedman run. Launched in spring 2021, START offers biomedical research career advisory groups that any interested student can join, as well as competitive summer research fellowships. One of START's goals is to help students who are interested in applying to MARC build a solid foundation in biomedical research.
Student Stories
Lucy Britto, a first-cohort MARC scholar who majored in biomedical engineering, will enter a biomedical engineering Ph.D. program offered jointly by the Georgia Institute of Technology and Emory University, both of which are in Atlanta, in fall 2022. She plans to focus on cancer biology. "What I appreciate most about MARC is the mentorship and people's willingness to share their own experiences with writing personal statements, going through interviews, and asking for letters of recommendation," Lucy says. "Having a group of students around me who were going through the same thing was also a big help."
Lucy has a strong interest in scientific illustration, and during summer 2021, she participated in an artist-in-residence program at Vanderbilt. She created seven images for a journal article about how obesity affects the body's management of iron. Lucy believes that scientific illustration can help make complex topics accessible to a much wider audience and hopes to illustrate her own scientific discoveries in the future.
During her senior year, Lucy felt that it was important to spread the word about MARC to younger students because of the positive impact the program had on her. One lab colleague with whom she discussed the program joined MARC's third cohort in spring 2022, and another plans to apply once she's eligible in spring 2023.
Another first-cohort MARC scholar, neuroscience graduate Anna Bright, has also helped publicize the program so that others might share in her own positive journey. "MARC has been the most influential and beneficial experience of my undergraduate career," she says. Anna is entering a biological sciences Ph.D. program at the Icahn School of Medicine at Mount Sinai in New York City in fall 2022. She hopes to study stem cells and neurodegenerative disorders—particularly Alzheimer's disease.
Anna credits MARC with a large part of her success applying to graduate school. "MARC made me more confident talking about my science, which was very important for my interviews," she says. The program has helped Anna learn how to share her science not just with fellow researchers, but with anyone who's interested. "I've developed the ability to change the conversation depending on my audience, whether I'm speaking to a faculty member or someone who's never heard anything about neural differentiation processes," she says.
A Peer-Mentoring Perspective
Christina Chavez, a biological sciences Ph.D. student, helped mentor the first cohort of MARC students. As an undergraduate, Christina participated in the MARC program at California State University, Fullerton, and when she learned about the program at Vanderbilt, she immediately asked how she could support it.
Christina has since helped plan discussion topics for and offered advice during MARC meetings, which are held every other week. "I try to give the students words of encouragement often because I remember how important positive feedback was for me when I was an undergrad and doubting myself," she says. During the 2021-to-2022 school year, Christina also scheduled times in between the MARC meetings when students could come to her with questions or ask for help with applications.
The MARC scholars' growth over the past 2 years has impressed Christina, as she's seen their scientific knowledge, ability to communicate their research, and confidence evolve. "I'm very proud of this cohort. They've done such phenomenal work," Christina says. "I feel privileged that I could support them and get to know them through MARC."
The Vanderbilt MARC program is supported by NIGMS grant T34GM136451.
Share...