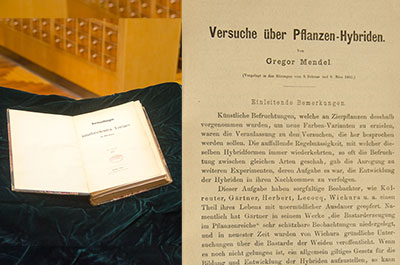 An original edition of Gregor Mendel's 1866 publication, "Experiments in Plant Hybridization," housed in NIH's National Library of Medicine. Credit: Alisa Machalek.
This year marks the 150th anniversary of Gregor Mendel's publication that—after sitting ignored for a few decades—helped launch the field of modern genetics. Mendel didn't know about DNA. But after painstakingly cross-fertilizing tens of thousands of pea plants over the course of 8 years, this Austrian monk came very close to describing genes.
By picking a species with a handful of visible characteristics that occur in two easily identifiable forms, Mendel was able to pinpoint what he called "factors." These factors determine traits like a pea's shape or color, for instance, and are passed down from parents to offspring. He also observed that factors can be dominant or recessive.
Today, we know that inheritance is far more complex than what Mendel saw in his pea plants. Here are some of the things scientists have learned about how traits are passed from one generation to the next. Continue reading "Four Ways Inheritance Is More Complex Than Mendel Knew"