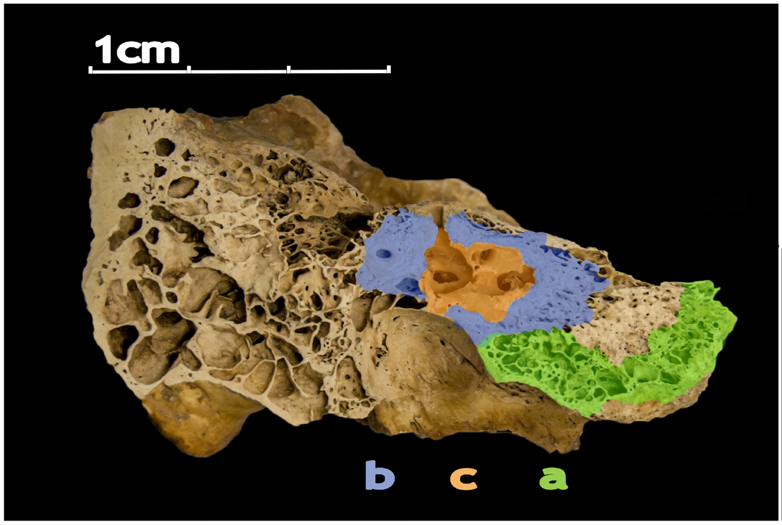 The human petrous bone in the skull protects the inner ear structures. Though it is one of the hardest, densest bones in the body, some portions (such as the area in orange, protecting the cochlea) are denser than others. Possibly because the petrous bone is so dense, DNA within the petrous bone is better preserved than in other bones. In some cases, scientists have extracted more than 100 times more DNA from the petrous bone than other bones, including teeth. Credit:
Pinhasi et al., 2015, PLOS ONE.
For the past few decades, new evidence about ancient humans—in the form of skeletal remains, tools, and other artifacts—has trickled in, inching us closer to an understanding of how our species evolved and spread out across the planet. In just the past few years, however, knowledge of our deep past expanded significantly thanks to a series of technological breakthroughs in sequencing of ancient human genomes. This technology can be used to find genetic links among populations of human ancestors dating back hundreds of thousands of years.
In addition to advances in genomic technology, another factor is driving the explosion of new discoveries—an inch-long section of the human skull. Found near our ears, this pyramid-shaped portion of the temporal bone is nicknamed the petrous bone. The bone is very hard, possibly because it needs to protect fragile structures such as the cochlea, which translates sound into brain signals, and the semicircular canals, which help us maintain our balance. Perhaps because the petrous bone is so dense, it also is the bone in the body that best preserves DNA after a person dies. As a result, archaeologists are scrambling to study samples taken from this pyramid-shaped structure to unlock the mysteries of our species' formative years.
Here's a sampling of headlines declaring new findings about ancient peoples from around the globe that were based on genetic information obtained from the petrous bone (NIGMS-funded research indicated in black):
"How the introduction of farming changed the human genome" November 2015
"Fourth strand' of European ancestry originated with hunter-gatherers isolated by Ice Age" November 2015
"Scientists sequence first ancient Irish human genomes" December 2015
"Genetic studies provide insight into ancient Britain's diversity" January 2016
"The world's first farmers were surprisingly diverse" June 2016
"Study reveals Asian ancestry of Pacific islanders" October 2016
"Ancient DNA solves mystery of the Canaanites, reveals the biblical people's fate" July 2017
"Ancient DNA data fills in thousands of years of human prehistory in Africa" September 2017
"European Hunter-Gatherers Interbred With Farmers From the Near East" November 2017
"Surprise as DNA reveals new group of Native Americans: the ancient Beringians" January 2018
"Ancient DNA reveals genetic replacement despite language continuity in the South Pacific" February 2018
"Stone Age Moroccan Genomes Reveal Sub-Saharan African, Near Eastern Ancestry" March 2018
"Some early modern populations in Britain may have had dark skin" March 2018
Continue reading "The Skull's Petrous Bone and the Rise of Ancient Human DNA: Q & A with Genetic Archaeologist David Reich"