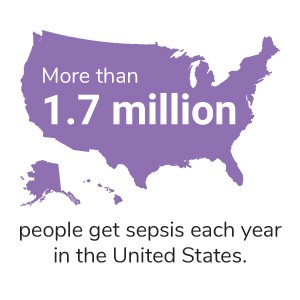 View the
full infographic
for more facts about sepsis.
Sepsis is a serious medical condition caused by an overwhelming response to infection that damages tissues and organs. It's unpredictable, progresses quickly, can strike anyone, and is a leading cause of hospital-related deaths. In the U.S. alone, nearly 270,000 people die each year from sepsis. Those who survive sepsis often end up in the hospital again, and some have long-term health complications. Early treatment is key for many patients to survive sepsis, yet doctors can't easily diagnose it because it's so complex and each patient is different.
Despite decades of research, sepsis remains a poorly understood condition with limited diagnostic tools and treatment. To tackle these obstacles, scientists Vincent Liu, Christopher Seymour, and Hallie Prescott have started using a "big data" approach, which relies on complex computer programs to sift through huge amounts of information. In this case, the computers analyze data such as demographic information, vital signs, and routine blood tests in the electronic health records of sepsis patients. The goal is to find patterns in the data that might help doctors understand, predict, and treat sepsis more effectively.
Continue reading

"Sepsis: Using Big Data to Cut a Killer Down to Size"