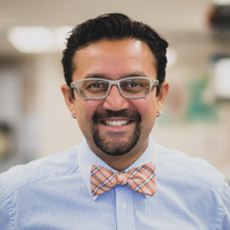 Credit: Pablo Tsukayama, Ph.D.,
Washington University School of Medicine
Gautam Dantas
Born: Mumbai, India
Most proud of: His family, which brings him joy and pride
Favorite lab tradition: OOFF! Official Optional Formal Fridays, when members of his lab can dress up, eat bread—made in the lab's own bread machine—and drink beer and wine together at the end of the day
When not in the lab, he: Enjoys home brewing, pickling and canning, and spending time with his wife and children. He also attends musical performances, including those of his wife, who sings in the St. Louis Symphony Chorus
Advice to aspiring scientists: Pursue hobbies, take risks, explore beyond your comfort zone. "You can do a Ph.D., but also have other experiences." He says his own outside activities refine his focus in the lab, keep him grounded and help him be an empathetic mentor to his students. Plus, he met his wife while singing in the chorus of Macalester College in St. Paul, Minnesota
When I Grow Up…
Gautam Dantas remembers the day in 10th grade when he first wanted to be a scientist. It was the day he had a new biology teacher, a visiting researcher from the U.S. The teacher passionately described his own biochemical studies of how organisms live together in communities. By the end of the class, Dantas had resolved to earn a Ph.D. in biochemistry.
He ended up doing much more—gaining expertise in computational biology, protein design and synthetic biology. He now combines his skills and knowledge in multifaceted research that spans four departments at Washington University in St. Louis. His goal: to better understand and help combat a vital public health threat—drug-resistant bacteria.
"Our motivation is that we are living in the antibiotic era, and antibiotic resistance is getting out of control," Dantas says. "We have very few new antibiotics we can use, so we're kind of scrambling [to find new ways to treat bacterial diseases]."
His research focuses on one of the groups most vulnerable to bacterial infections—newborn babies.
According to his lab's website

, the research is "at the interface of microbial genomics, ecology, synthetic biology, and systems biology," and it aims "to understand, harness, and engineer the biochemical processing potential of microbial communities." They do it by scrounging around in infant diapers.
Antibiotic Angst
Since their introduction in the 1940s, antibiotic drugs have saved countless lives. Simultaneously, they weeded out strains of bacteria easily killed by the drugs, allowing drug-resistant strains to thrive. Every year, at least 2 million people in the U.S. become infected and at least 23,000 die from drug-resistant bacteria, according to the Center for Disease Control and Prevention. Continue reading "The Irresistible Resistome: How Infant Diapers Might Help Combat Antibiotic Resistance (sort of)"