According to a recent estimate, implant infections following hip and knee replacement surgeries in the U.S. may number 65,000 by 2020, with the associated healthcare costs exceeding $1 billion. A new small, high-tech device could have a significant impact on improving health outcomes and reducing cost for these types of surgeries. The device, Air Barrier System (ABS), attaches on top of the surgical drape and gently emits HEPA-filtered air over the incision site. By creating a "cocoon" of clean air, the device prevents airborne particles—including the bacteria that can cause healthcare-associated infections—from entering the wound.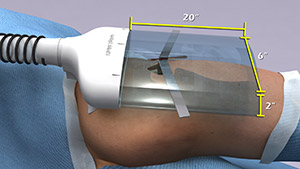 The Air Barrier System creates a "cocoon" of clean air (gray area with size indicated) over a surgical site to remove airborne contaminants and reduce the risk of infection in patients who are receiving an artificial hip, a blood vessel graft, a titanium plate in the spine or other implants.
Scientists recently analyzed the effectiveness of the ABS device in a clinical study—funded by NIGMS—involving nearly 300 patients. Each patient needed an implant, such as an artificial hip, a blood vessel graft in the leg or a titanium plate in the spine. Because implant operations involve inserting foreign materials permanently into the body, they present an even higher risk of infection than many other surgeries, and implant infections can cause life-long problems.
The researchers focused on one of the most common causes of implant infections—the air in the operating room. Although operating rooms are much cleaner than almost any other non-hospital setting, it's nearly impossible to sterilize the entire room. Instead, the scientists focused on reducing contaminants directly over the surgical site. They theorized that if the air around the wound was cleaner, the number of implant infections might go down.
Measuring the levels of airborne bacteria and particles was laborious. The researchers sampled air every 10 minutes during surgeries—nearly 3,000 times over a total of 470 hours.
The results proved that the ABS successfully cleansed air around incision sites—the average number of airborne particles dropped by 37 to 91 percent, depending on the type of surgery. The device also kept airborne microorganisms to almost zero. Most significant of all, the ABS appeared to reduce implant infections. In the group of patients whose surgeries used standard antiseptic techniques, there were four implant infections. In the group that added the ABS, there were none.
The ABS device is relatively inexpensive, costing $200-250 per surgery. Treating a single post-surgical infection can be far costlier—an estimated $40,000 for each of the four infections in this study. So using the device—which has been approved for sale by the U.S. Food and Drug Administration—promises not only to reduce the post-surgical implant infections, but might even reduce overall healthcare costs.
As shown in this video, highly purified air gently blows away bacteria and particles, cleansing the incision site and reducing implant infections.
Share...