"I've been infected with this enthusiasm for science, and I think that carries over to my students. Essentially, I lead by example," says Mikhail Bobylev, Ph.D., a professor of chemistry at Minot State University in Minot, North Dakota. He researches ways to improve the chemical synthesis of medicinal molecules, and since 2004, he's has mentored more than 70 undergraduate researchers in his lab with support from the NIGMS-funded North Dakota IDeA Networks of Biomedical Research Excellence (INBRE).
Dr. Bobylev focuses on training students to conduct rigorous, meaningful research and to communicate it clearly to a variety of audiences, including the general public, scientists, and policymakers. He believes that this emphasis on strong communication skills is one of the reasons why his students were often selected for Posters on the Hill—a prestigious annual event where undergraduate researchers presented their work to lawmakers in Washington, D.C. Since 2008, 10 of his mentees were chosen to participate.
Sparking a Passion for Research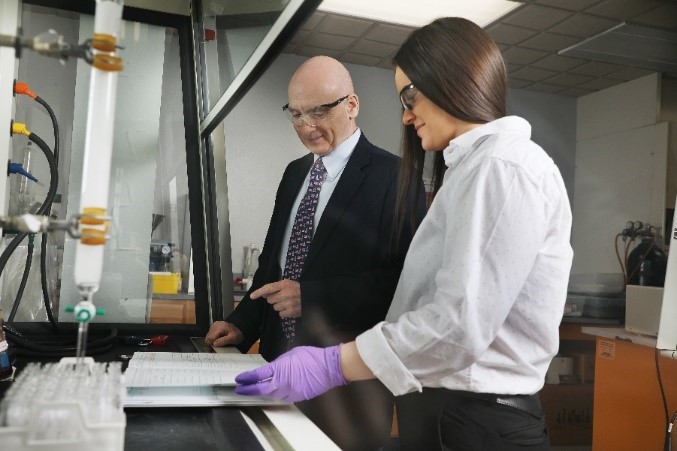 The most recent delegate was Daniela Nardelli, a senior at Minot State University who joined Dr. Bobylev's lab during her sophomore year. At the 2022 Posters on the Hill event, she presented her research optimizing a chemical reaction used in ibuprofen production.
Daniela feels that Dr. Bobylev's patience with students, especially when explaining scientific concepts, is what makes him such a good mentor. Working in his lab sparked her passion for research. "Dr. Bobylev kind of ruined my plans," Daniela says with a laugh. "Before I started working with him, I was set on going to medical school. But I fell in love with what I'm doing in his lab, and now I'm wondering if I want to do something that's more related to research."
Building Scientific Skills
Alexandria Hamm, a former mentee of Dr. Bobylev's who graduated from Minot State University in 2020, also cites working in his lab as the catalyst for her love of research. She joined the lab during her junior year and refers to doing so as "one of the best decisions" of her life. Alexandria appreciated Dr. Bobylev's belief in the capability of his students as well as his honest, constructive feedback on her research and presentations. "I really developed my work ethic from my time in his lab. I also gained confidence in presenting my research and became a better scientist," she says.
Alexandria was chosen to participate in Posters on the Hill in 2020. She shared her work on developing a more efficient way to produce a starting material for a class of medicines to treat Alzheimer's disease. After graduating with her bachelor's degree, Alexandria entered a biochemistry Ph.D. program. Ultimately, it wasn't the right fit for her, so she's currently exploring other science-related career options. Alexandria says it's important that she pursue a path that centers on exploring research and sharing it with others.
Mentoring and Medicine
Braden Burckhard, M.D., a former mentee of Dr. Bobylev's who graduated from Minot State University in 2012, says that his mentor's passion for science and teaching inspired him to excel as a student. In 2013, soon after graduating with his bachelor's degree, Dr. Burckhard was chosen to participate in Posters on the Hill. He presented research that had a personal connection. While Dr. Burckhard was in college, his hometown experienced a flood that led to fungi and molds growing in many homes. He collected samples of them, grew them in the lab, and tested different compounds to determine which might help eliminate them.
Dr. Burckhard feels that Dr. Bobylev gave him a great balance of support and room to grow while he was conducting his research. "Dr. Bobylev was always extremely approachable and excited to help, and his lab was a family-like environment," he says. Since graduating with his bachelor's degree, Dr. Burckhard has earned his M.D., completed an ophthalmology (eye medicine) residency, and begun a retinal surgery fellowship in San Francisco, California. He plans to move back to North Dakota to practice medicine once his fellowship is finished and hopes to help mentor students in Dr. Bobylev's lab who are interested in pursuing medical careers.
Dr. Bobylev believes that it's imperative for established researchers to share their wisdom and experience. "Many of the people who inspired me as a young scientist are unfortunately no longer with us, but parts of them are living inside me, and I'm trying to pass their insights on to future generations," he says.
Dr. Bobylev's work is supported by NIGMS grant P20GM103442.
Share...