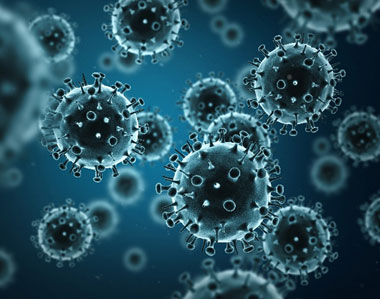 Nearly 10 percent of the human genome is derived from the genes of viruses. Credit: Stock image.
When viruses infect us, they can embed small chunks of their genetic material in our DNA. Although infrequent, the incorporation of this material into the human genome has been occurring for millions of years. As a result of this ongoing process, viral genetic material comprises nearly 10 percent of the modern human genome. Over time, the vast majority of viral invaders populating our genome have mutated to the point that they no longer lead to active infections. But they are not entirely dormant.
Sometimes, these stowaway sequences of viral genes, called "endogenous retroviruses" (ERVs), can contribute to the onset of diseases such as cancer. They can also make their hosts susceptible to infections from other viruses. However, scientists have identified numerous cases of viral hitchhikers bestowing crucial benefits to their human hosts—from protection against disease to shaping important aspects of human evolution, such as the ability to digest starch.
Protecting Against Disease
Geneticists Cedric Feschotte, Edward Chuong and Nels Elde

at the University of Utah have discovered that ERVs lodged in the human genome can jump start the immune system.
For a virus to successfully make copies of itself inside a host cell, it needs molecular tools similar to the ones its host normally uses to translate genes into proteins. As a result, viruses have tools meticulously shaped by evolution to commandeer the protein-producing machinery of human cells.
Continue reading

"Our Complicated Relationship With Viruses"