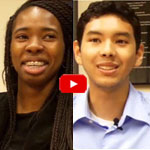 Jasmine Johnson and Gabriel "Gabe" Vela
Field: Genetics of sleep and obesity
Worked as researchers at: The Jackson Laboratory, Bar Harbor, Maine
Graduated from high school at: Rockdale Magnet School for Science and Technology in Conyers, Ga.
Now freshman at: Stanford University in Palo Alto, Calif. (Johnson) and Southern Polytechnic State University in Marietta, Ga. (Vela)
Fascinating fact: Johnson presented her research at the 2013 White House Science Fair
Credit: Joe Piergrossi
Jasmine Johnson and Gabe Vela might still be teenagers, but they are also seasoned scientists. It all started 3 years ago, when, as high school juniors, they took the research course Independent Studies in Computational Biology at The Jackson Laboratory in Bar Harbor, Maine. They were hooked. They continued to do research until they graduated, working part-time for 2 academic years and full-time for 2 summers.
They worked with statistical geneticist Gary Churchill, using computational biology to explore the relationship between sleep and obesity. They focused on finding genes that regulate sleep and understanding how sleep affects the body. One goal of the research is to tease out a genetic explanation for why sleep deprivation increases the risk of obesity.
Working in a lab "completely changed what I thought I was going to do with my life," said Vela. "Now I'm going to focus more on research than anything else."
For Johnson, the experience provided the opportunity to present her research at the 2013 White House Science Fair, where she hobnobbed with some political hot shots.
"It was an amazing experience," she said. Having "important White House officials be interested in my project … inspired me."
Johnson and Vela visited NIH a few months ago and talked with us about their research experiences, their lives and their future goals. Jasmine Johnson & Gabriel Vela on their experience as high school researchers at The Jackson Laboratory in Bar Harbor, Maine.
Learn More
Article

about Johnson and Vela and other young researchers, from The Jackson Laboratory's magazine The Search.
Article about the work of Gary Churchill, from NIH's Findings magazine.
Share...