Suppose you were a police detective investigating a robbery. You'd appreciate having a stack of photographs of the crime in progress, but you'd be even happier if you had a detailed movie of the robbery. Then, you could see what happened and when. Research on cells is somewhat like this. Until recently, scientists could take snapshots of cells in action, but they had trouble recording what cells were doing over time. They were getting an incomplete picture of the events occurring in cells.
Researchers have started solving this problem by combining some old knowledge—that DNA is spectacularly good at storing information—with a popular new research tool called CRISPR. CRISPR (clustered regularly interspaced short palindromic repeats) is an immune system feature in bacteria that helps them to remember and destroy viruses that infect them. CRISPR can change DNA sequences in precise ways; and it's programmable, meaning that researchers can tell CRISPR where to make a change on a DNA strand, and even what kind of change to make. By linking cellular events to CRISPR, researchers can make something like a movie that captures many pieces of information in the form of DNA changes that researchers can read back later. These pieces of information include timing, duration, and intensity of events, such as the turning on of a specific protein pathway or the exposure of the cell to pathogens (i.e. germs). Here, we look at some of the ways NIGMS-funded research teams and others are using CRISPR to capture these kinds of data within DNA sequences.
An audio recorder stores audio signals into a magnetic tape medium (left). Similarly, a microscopic data recorder stores biological signals into a CRISPR tape in bacteria (middle). An enormous amount of information can be stored across multiple bacterial cells (right). Credit: Wang Lab/Columbia University Medical Center.
Round and Round: mSCRIBE Creates a Continuous Recording Loop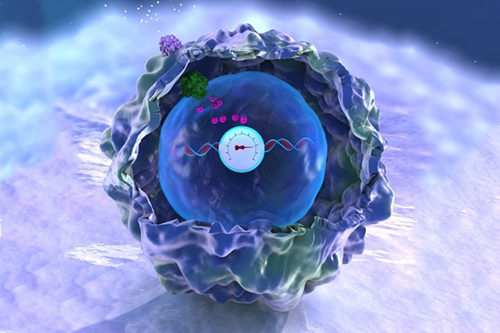 MIT bioengineers, led by Timothy Lu, have devised a memory storage system illustrated here as a DNA-embedded meter that records the activity of a signaling pathway in a human cell. Credit: Timothy Lu lab, MIT.
CRISPR uses an enzyme called Cas9 like a surgical knife, to slice both strands of a cell's DNA at precise points. A cut like this sends the cell scrambling to repair the damage. Often, the repair effort results in changes, or errors, in the repaired strand that pile up at a known rate. Timothy Lu
and his colleagues at the Massachusetts Institute of Technology (MIT) decided to turn this cut-repair-error system into a way to record certain events inside a cell. They call their method mSCRIBE (mammalian synthetic cellular recorder integrating biological events).
Continue reading "Best Documentary: Cells Record Their Own Lives Using CRISPR"