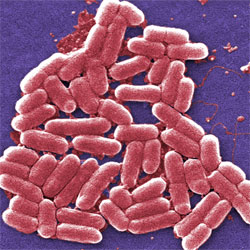 Modified E. coli bacteria can serve as sensors and data storage devices for environmental and medical monitoring. Credit: Centers for Disease Control and Prevention.
View larger image
E. coli bacteria help us digest our food, produce vitamin K and have served as a model organism in research for decades. Now, they might one day be harnessed as environmental or medical sensors and long-term data storage devices

.
MIT researchers Timothy Lu

and Fahim Farzadfard modified the DNA of E. coli cells so that the cells could be deployed to detect a signal (for example, a small molecule, a drug or the presence of light) in their surroundings. To create the modified E. coli, the scientists inserted into the bacteria a custom-designed genetic tool.
When exposed to the specified signal, the tool triggers a series of biochemical processes that work together to introduce a single mutation at a specific site in the E. coli's DNA. This genetic change serves to record exposure to the signal, and it's passed on to subsequent generations of bacteria, providing a continued record of exposure to the signal. In essence, the modified bacteria act like a hard drive, storing biochemical memory for long periods of time. The memory can be retrieved by sequencing the bacteria or through a number of other laboratory techniques. Continue reading "E. Coli Bacteria as Medical Sensors and Hard Drives?"