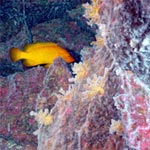 The ocean is a rich source of microbes that could yield infection-fighting natural molecules. Credit:
National Oceanic and Atmospheric Administration

.
Antibiotics save countless lives and are among the most commonly prescribed drugs. But the bacteria and other microbes they're designed to eradicate can evolve ways to evade the drugs. This antibiotic resistance, which is on the rise due to an array of factors, can make certain infections difficult—and sometimes impossible—to treat.
Read the Inside Life Science article to learn how scientists are working to combat antibiotic resistance, from efforts to discover potential new antibiotics to studies seeking more effective ways of using existing ones.
Share...