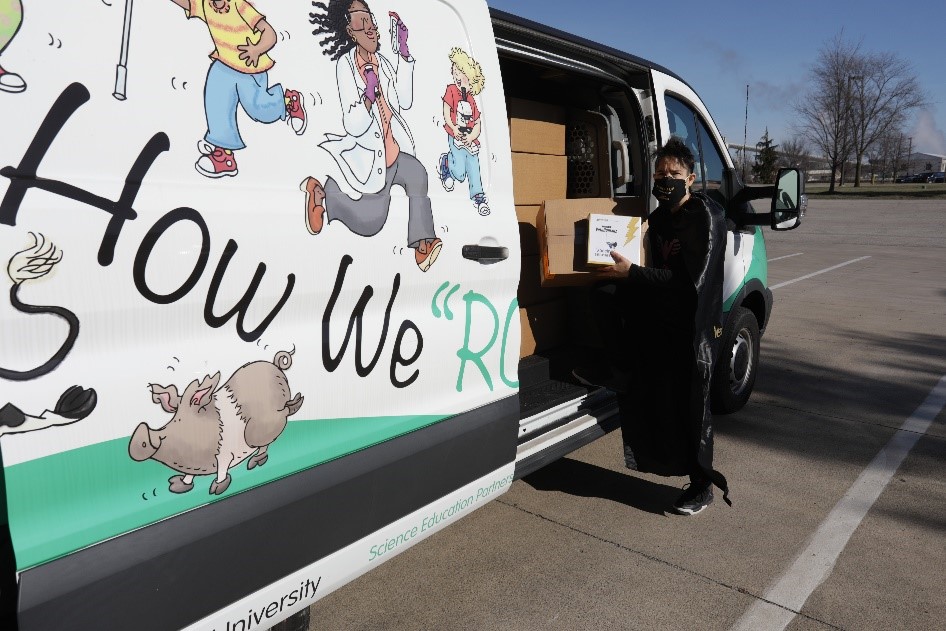 "I'm Pink Phoenix, leader of the Vetahumanz League of superheroes, and it's the best job in the world." The League of VetaHumanz is a superhero league for veterinarians, founded and led by Pink Phoenix, the alter ego of Sandra San Miguel, D.V.M., Ph.D. Through support from the NIGMS Science Education Partnership Award (SEPA) program, the league seeks to diversify the veterinary profession.
Members of the league work with elementary students across the country to give them a sense of belonging to the veterinary profession. "I'm most proud of bringing people together who share the mission and vision with all their heart," Pink Phoenix remarks. "Nobody can just be a member of the league. You have to earn the cape." The league has over 400 certified role models throughout the country who are either veterinarians—VetaHumanz—or veterinary school students—VetaHumanz in training.
Teams of these role models partner with local schools or community centers that support under-resourced students of color. They build relationships with the kids and organizations as they deliver veterinary-based STEM activities, lessons developed through the SEPA program that's "basically vet school for K-4 students," according to Pink Phoenix. Through the league's "See Us, Be Us" model, the students see VetaHumanz who look like them, and they start to realize that becoming a veterinarian is a possibility.
One VetaHuman in training, Violet Alchemy (alter ego of Akila Bryant), recalls working with students who were asked to draw a veterinarian. "I noticed a young African American girl drawing a blonde-haired veterinarian," Violet Alchemy says. When she asked the student about her drawing, the student said she'd never seen a veterinarian who looked like her. "It's my goal as a future veterinarian to change the narrative of what a veterinarian is supposed to look like so that more African American students can see themselves in this profession and feel empowered to discover their superpowers."  
But what about the kids who don't live near a VetaHumanz role model team? Not to fear: The SuperPower Packs are here! The league created SuperPower Packs to reach kids, no matter their geographical location. Each pack has a collectible card featuring one of the VetaHumanz with their backstory, superpower, and a picture of them as a kid (so the student can envision themselves as a veterinarian). The pack also includes a letter from the superhero telling the student what they do and how they became a veterinarian. The student can don the included cape to borrow the superhero's powers—and they might need them as they play the game or read the book also included in the pack.
One of the SuperPower Packs is about vaccines. "It's easy for vets to explain the value of vaccination in a context that people can relate to a little better," says Pink Phoenix. "We get our dogs and cats vaccinated to keep them and the other animals they're around healthy." The SuperPower Pack highlights veterinarians as scientists developing vaccines, as communicators, and as protectors of public health. "People often see us as protecting animal health, but all veterinarians take an oath to protect public health," says Pink Phoenix. In the pack, students get a book titled VetaHumanz Need Vaccines, Too! (available online in English and Spanish) that explains germs and how vaccines give both people and animals superpowers in the form of antibodies to fight them.
Even though their in-person programs were on pause due to the pandemic, the league was able to distribute the Vaccine SuperPower Packs through community partnerships already in place. They also gave away packs to kids who were vaccinated at community health centers. The kids received a superhero cape and encouragement that, with their cape, they were ready to get their superpowers from the vaccine. And as Pink Phoenix says, "Even though it sometimes hurts to get superpowers, once you've got them, you're powered up! So use your powers for good!"
The most recent addition to the league's resources is a podcast where Pink Phoenix interviews other VetaHumanz to learn about their superpowers and how they became a veterinarian or a veterinary student. Listeners can hear the excitement of what it's really like to be a vet—which goes much farther than being a family doctor for dogs and cats.
The league is not only having a positive impact on the elementary students who participate but also on its members. VetaHumanz gain experiences and skills that make them better professionals. Chamaleona, alter ego of VetaHuman in training Keishla Marrero Acosta, says that being part of the league has helped improve her communications skills. "We have to put very complicated terms and definitions into the simplest forms in order for kids to understand." She adds that as a veterinarian interacting regularly with clients from various backgrounds and education levels, "it's important for us to know how to efficiently pass on information."
For those interested in becoming a veterinarian, Pink Phoenix recommends getting out there and trying new things: "Being a veterinarian is about being open to learning—using your personal experiences and applying them in your own unique way." The league tells students that they gain their superpowers by going through life's challenges. Pink Phoenix continues, "If you don't try new things, you'll never find out what powers you've got." So remember: Use your powers for good!
The League of VetaHumanz program is supported by NIGMS SEPA grants R25GM137169 and R25GM137169-02S1.
Share...