"Being able to discover new, unexpected things is why you wake up every day and go to work as a scientist. The other part is hopefully to have a positive impact on human health—through combatting conditions ranging from antibiotic resistance to cancer," says Elizabeth Parkinson, Ph.D., an assistant professor of organic chemistry at Purdue University in West Lafayette, Indiana. In an interview, Dr. Parkinson shared with us her path to a scientific career, research on natural products made by soil-dwelling bacteria, and advice for students.
Q: What sparked your interest in science?
A: My high school freshman biology teacher, Mr. O'Connell, first got me interested in science. He'd bring objects to class, and we'd have to guess how they might relate to the day's subject matter. One time he brought strawberries, and we isolated DNA from them, which I really enjoyed. I also participated in a science fair for the first time that year. My project focused on how the color of light affected plant growth, and that was a very fun experience.
Q: How did you decide to pursue a career in organic chemistry research?
A: I entered Rhodes College in Memphis, Tennessee, knowing that I enjoyed biology and chemistry, but what led me to focus on this field was my organic chemistry professor, Dr. Julie Li. She was just fantastic, always welcoming questions and using real-life examples. I also participated in the St. Jude Children's Research Hospital Summer Plus Program, which gives students hands-on research experience. I applied because I was interested in the idea of making medicines, and I ended up doing research at St. Jude with Dr. Philip Potter throughout my undergraduate career. That experience propelled me into research and drove my future.
Q: What were your next steps?
A: I applied to a lot of different graduate schools and ultimately chose the University of Illinois Urbana-Champaign. I joined the lab of Dr. Paul Hergenrother, who does a lot of work with natural products and drug development. During my Ph.D. research, I synthesized derivatives of a natural product and tested them as anticancer agents in cells and mice.
During my Ph.D. work, I had become interested in how bacteria made the natural products that I was trying to synthesize, so I stayed at the University of Illinois Urbana-Champaign as a postdoctoral researcher to work with Dr. William Metcalf, a microbiologist focusing on Streptomyces bacteria and their ability to make natural products. When you go outside right after it rains and it smells good, it's Streptomyces making that smell. I really enjoyed learning about these bacteria and how they make molecules.
After a few years, I decided that becoming a professor would be my ideal job because I've always enjoyed teaching in addition to doing research. I applied to positions and accepted an offer from Purdue University.
Q: What are you researching in your lab?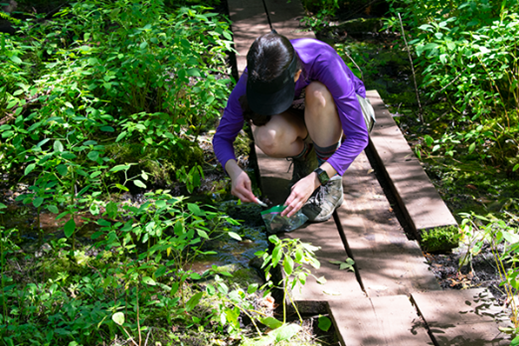 A: My lab focuses on identifying natural products from soil-dwelling bacteria, primarily Streptomyces, that could potentially be used as antibiotics, cancer treatments, and tools to study biological mechanisms. Many antibiotics used today originated in Streptomyces. But when moved to laboratory settings, Streptomyces turn off about 70 percent of their gene clusters that appear to contain instructions for making natural products, so they have the capability to make many more. My lab is interested in figuring out ways to turn those genes on. We also use bioinformatics tools to predict what molecules the genes might make and see if we can potentially synthesize the natural products ourselves in the lab.
Q: What do you consider your biggest accomplishment so far?
A: One of the molecules that I made during my third month in the lab as a graduate student is now in animal studies for head and neck cancer, and if successful, we're hoping it'll be considered for studies in humans in the future. Knowing that a molecule I made is potentially going into human clinical trials is mind-blowing. I'm also really proud of the students I've mentored and where they've ended up. Although I haven't had Ph.D. students graduate yet, I've mentored undergrads who are now in graduate school or medical school, and it's been really fun to see them grow and flourish.
Q: What are some goals that you ultimately hope to achieve?
A: I would love to learn more about how bacteria communicate within the soil and how that affects natural product production. Hopefully, I could utilize that knowledge to discover natural products useful for human health. I also hope that through the classes I teach, I can help students who aren't chemistry majors understand the importance of organic chemistry in science and its connection to everyday life.
As far as goals that are less research related, we recently started a chemistry-department mental health committee and are working to address some of the mental health issues that graduate students face. I struggled a bit with mental health when I was in graduate school, and I was lucky enough to have people who helped me through that. But not everyone has that support, so we want to make sure they know that there are resources available to help. So far, we've developed a
webpage and flyers for graduate students to better understand available options, coordinated weekly sessions where a therapist can meet with students, presented at orientations about challenges of graduate school and resources available, and organized seminars around mental health topics and resources.
Q: What advice would you give students who are interested in pursuing a career in science?
A: Stay curious! And make sure you're taking care of yourself and your mental health, because if you aren't, you can't work hard and do a good job as a scientist.
Dr. Parkinson's research is supported by NIGMS grant R35GM138002.
Share...